Power (KVA) Supplied by Electricity Boards consist of Real Power (KW), which Produce energy & reactive power (KVAR) generated by Inductive Loads, which decreases the loading capacity & the efficiency of the Supply System. The Power Factor (PF) is defined as a ratio between the Real Power & the Total Power.
Electricity Boards charge heavy Penalty to H.T. Consumer, if the Power Factor of the system is below a required minimum average value. Power Factor of the System can be improved by switching Capacitors as per KVA demand with the help of Automatic Power Factor Controllers.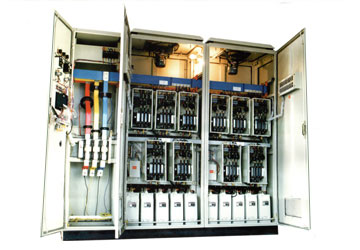 Modern Industries use Large Nos. of AC Motors, DC Drives, Rectifiers, Invertors, Compressors, Inductive Furnaces and Welding Machines, causing poor Power Factor of the System. The Reactive Power requirement in such Industries varies rapidly within every few cycles. The response speed of the conventional Power Factor Controller is not suitable to take care of rapid switching cycle. The Conventional Power Factor Control System incorporates Electromechanical Switches to Switch Capacitors and or not suitable for Fast switching where the load is rapidly changing.
Also fast switching of Capacitors and Contractors results in inherent stresses on the Capacitors and on the Switchgear components.
Uncompensated reactive power leads to poor Power Factor. Voltage instability, flickering, high current consumption, increased Maximum Demand, high losses, low electric supply, loading capacity and overrating of switchgears & cables results in high wear and tear and high maintenance cost.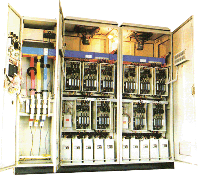 Jaivic Thyristorised Automatic Power Factor Correction System is a modern Powerful System constituting a Technological Breakthrough in the field of Power Factor Control.
This new Modern System utilises Electronic Switching Element that switch Power Capacitor Banks into the new worth without creating switching transients. Connection to the network is performed with the help of 'ZERO-CROSSING Detector', providing smooth connection to the Capacitor Banks. There is no limit to the no. of switching operations, since the Electronic switching elements do not wear out or deteriorate during the switching process.